Our professional IT support specialists at your disposal
Having been in business since 1998, CeRFI is now one of the Top 20 Swiss IT computer services companies, both in terms of size and durability.
More than 100 IT support specialists at your disposal!
CeRFI has been the service desk leader in the French-speaking part of Switzerland ("Romandie") for 15 years in a row now, thanks to a recognised, business-orientated approach involving:
a "work and learn" concept, launched in 2000, that has since proved its value
a fine combination of technical, human and relational competences, best serving the profession and its demanding customers
More than 12 different specialists profiles at your disposal
Numerous large international organisations entrust us with long-term projects focused on help desk management, as well as short-term projects to fill gaps in the event of temporary staff absences, plus audit and training projects.
Our projects and services are tailored to your business needs.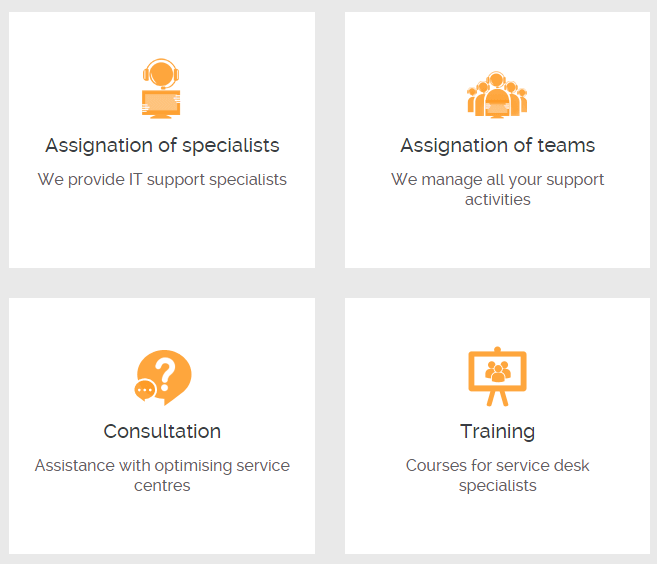 Would you like to make your service desk more professional? Don't wait any longer - contact us! We will be more than happy to visit you in your professional environment in order to evaluate the solution that best fits your needs.
Delegation of specialists
Our IT support specialists
Our specialists are the CeRFI ambassadors of the service desk world and have the responsibility to fulfil any kind of short- or long-term project.
More than 100 specialists work for CeRFI. They are 32 years old on average, and 25% are women. They have all followed the same 3-month "home-made" intensive training course to reach an equivalent level of competency. The 3 months include a short internship.
Following these 3 months, our specialists undergo continual training, according to their needs and customer requirements. ITIL, technologies, foreign languages skills, team management and project management are among the possible training options.
CeRFI management stays close to every specialist during his/her career.
12 different profiles of IT specialists are waiting for your call:
System administrators, application managers, change managers, project managers, project leaders, service desk specialists, floor runners, team managers, service managers, access rights specialists, information security specialists and workstation technicians.
Team delegation
Service Desk Team Management
Whether it be for a short-term project (IT migration) or a long-term project, CeRFI is the partner to manage your service desk team.
We tailor our services to your needs: level 1 focused, level 2 focused, both levels, full team or not, with or without team manager, with extra staff for special events etc.
Whether you are an IT-related company or not, whether you have an existing service desk or not, whether you are located in Geneva or not, whether you are a start-up or a multinational - we will fulfil your needs.
We offer a wide range of services: telephone assistance, incident management, mobile devices management, software installation, hardware inventory, VIP assistance etc. - to name just a few.
Tell us your goals and we will show you how to reach them!
We help you monitor performance with dashboards and customer-defined indicators. These can include acceptable resolution time, percentage of calls answered, number of staff available, number of calls waiting, plus a wide range of critical statistics.
The service desk team we provide you with will be monitored closely by our managers on a daily basis, as well as through regular CeRFI-customer meetings, in order to act and respond quickly and for the long term, thus maintaining a constantly high level of service.
Team setup is organised in 4 phases:
preparation (recruiting, training, initialisation)
skills transfer (former team => new team)
qualifying period
delivery of the service, according to contract
Consulting
Service Desk Consulting and Audit
Our years of accumulated experience are our best guarantee to provide you with the most accurate advice, for both the optimisation of an existing service desk and complete setup of a new one.
Our advice is based on 4 main axes:
organisation (scope, mission, dashboards)
processes (incidents, requests etc.)
human resources (individual skills, team building)
tools (ticketing, monitoring etc.)
Furthermore, we can assist you with your choice of ITSM software, as well as with customer satisfaction measurement.
Training
We can manage your training
At home, on site or in our training centre - we will teach you the best service desk practices.
Our tailor-made training courses last 1-3 days, are held wherever is convenient for you, under the leadership of our experts, and can be fully arranged to meet your requirements.
Our training courses catalogue comprises:
Service Desk Best Practices
Managing a Service Desk
ITIL Foundation
ITIL Service Design
ITIL Service Operation
ITIL Service Transition
ITIL Continual Service Improvement